Autumn Blaze Maple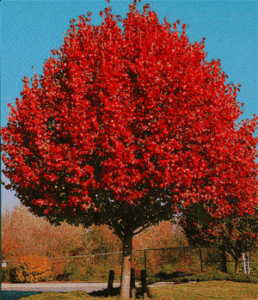 Zone: 3
Height: 50 feet
Width: 40 feet
Growth rate: 3 feet per year
Bloom: rarely produces seeds or blossoms
Water: medium
Sun: full sun to part shade
Fall color: red
Tolerance: wet conditions, drought
Autumn blaze is a rapidly growing maple tree. This is one of the most popular tree cultivars on the market. It is a hybrid between red and silver maple varieties. At maturity, it features an oval to round crown.
The main attractions to this cultivar include its rapid growth rate, and showy fall colors. The foliage turns into a vibrant orange to red color in autumn. In the spring, the leaves emerge with a red hue, which transitions to green with maturity during summer.
Autumn blaze in an adaptable tree which can tolerate both wet and dry conditions, and has good insect and disease resistance. Aside from leaves dropping in the fall, there is little to deal with in terms of mess thanks to its lack of blooms and seeds. Autumn blaze is a great option for someone looking for a showy, large, rapidly growing shade tree, which takes little maintenance once established.